Archival Research Internship
Daan Stokvis, NIOD institute
Amsterdam, the Netherlands – December 2022
In August I started my Internship at the NIOD institute for war, holocaust, and genocide studies in Amsterdam. During this internship, I support Dr. Hinke Piersma in her research into the life of David Simons. Simons was a Jewish lawyer from The Hague who was part of the so-called Barneveld list during the Second World War. The Barneveld list was a list of Dutch Jews who held important positions within Dutch society, meaning that they were not to be transported directly to Westerbork. In 1943, this group was held captive for several months at the Schaffelaar castle in Barneveld, which is why they are also called the Barneveld group. Ultimately, this 'Barneveld group' was transported to Westerbork and eventually brought to Theresienstadt. Despite this horrendous turn of events, most of this group survived the holocaust. After the war, the Barneveld group has been silent about their experiences. This is where I come in! I travel the country visiting archives and turning them upside down for details about the Barneveld Group. In the end, all this archival research will help Dr. Piersma in her writing of a biography about David Simons.
During the first months of my internship, I have learned a lot about archival research and gained more insight into my historical expertise. The most important thing I learned about archival research is that you need to have a lot of patience, because a lot of interesting documents from this period are not yet openly accessible. This means that you need to make archival requests for all these documents. The acceptance of these requests can take multiple weeks.
Besides this new insight into the craft of archival research, I have also learned a lot about the importance of my own expertise. Ever since the beginning of my bachelor's degree, I have been interested in the experiences of Dutch Jews both during the war and in its aftermath. This has resulted in the fact that I had a lot of prior knowledge about this topic, and it feels great to know that I have been properly preparing myself for this specific internship during my time at Utrecht University. Even still, there is so much to learn from Simons' experiences to add onto my – and the general – knowledge of this topic. Last but not least, I have learned that as a historian, I prefer a 'micro-history' approach. I tried to learn more about other methods, like taking a course into comparative history, but I just like really like to write historical narratives with a 'small' topic.
After my internship, I will start working on my thesis, which (of course) will also be about Dutch Jews. After completing my master's degree, I hope to return to the NIOD institute once again.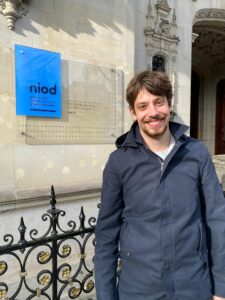 ^ Daan at the NIOD institute, Amsterdam